Membership
As one of 11 area associations, ECA Ottawa speaks on behalf of its members on issues regarding electrical contracting legislation, health and safety policies, and construction legislation. We also lobby on behalf of our members to make changes in the industry, representing the best interests of our membership at both a regional and a provincial level.
Become an active part of ECA Ottawa's nearly 100 unionized electrical contractors who operate in the greater Ottawa area. A voice for your industry and a presence in your community.
MEMBERSHIP ADVANTAGE PROGRAM
Helping our member's businesses succeed is one of ECA Ottawa's highest priorities. To assist with that mandate, and in partnership with ECA Ontario, we are proud to offer an entire array of discounts through the exclusive Membership Advantage Program.
These companies have partnered with us to save you, the member, money on everyday business and personal items. Whether it's work wear, insurance coverage, vehicles, office services, safety products, fuel savings and more, these discounts will save you real money. The Membership Advantage Program delivers an immediate return on investment via your membership dues and will add directly to your bottom line.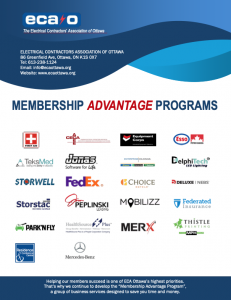 Helping our members succeed is one of ECA Ottawa's highest priorities. That's why we continue to develop the "Membership Advantage Program", a group of business services designed to save you time and money.
Have a look at our Membership Advantage Program.
Become part of ECA Ottawa's membership and have a voice in our industry's future.